"We have built and strengthened our outer world so much that if we continue, it will collapse. Comfort and convenience will happen, but well-being will never happen. By fixing your inner world consciously, you will keep your life blissful. Pure bliss is necessary so that life can flourish to its full potential. No other factor determines the quality of your life other than how happy you feel. " These simple and profound words are a small fraction of the wisdom that Sadhguru has shared with the world for over 30 years.
Sadhguru teaches us how to live in full awareness and in a constant state of inner bliss. His birth name is Yaggi Vasudev, and Sadhguru means "uneducated Guru." Although misleading, this name reflects the uniqueness with which he fulfills his mission. He was born in Mysore, Karnataka, India. At the age of 25, he had a bachelor's degree in English and had already started his own business, when one day, while in nature, he went through a spiritual awakening that transformed the meaning of his life. Yaggi entrusted his business to a friend and began a journey to find ways to bring other people to the Source. A year later, he began teaching yoga to share what he had learned about the inner and more evolved human world. In meetings with his followers, Sadhguru illuminates their path to prosperity and love in a unique, captivating, and simplistic way.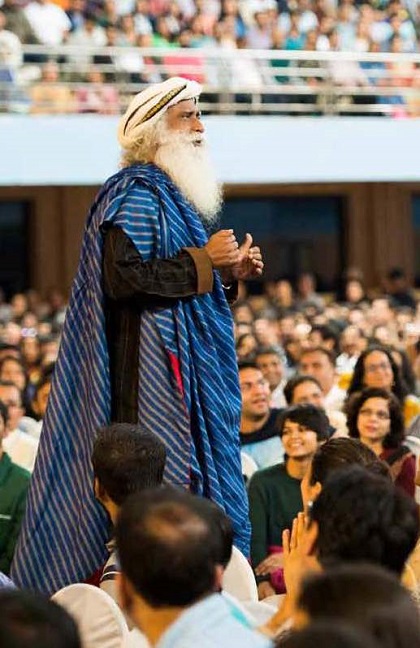 We can talk about him on and on because he does not inspire people only with his astute speeches in front of an audience. Sadhguru is an amazing example of how one can turn all interests and passions into daily activities without exhausting oneself, but on the contrary - to drive one's joy of life and become even more capable. We all want to be able to improve in more than one or two activities, but we do not find the time and way to do it. Sadhguru succeeds. He is a yogi, mystic, philanthropist, author of books and poems, works in all fields such as music, fine arts, and more.
He founded the non-profit organization Isha, which is run by volunteers and offers yoga programs for internal transformation in its ashrams and centers around the world. Educational initiatives are being set up to provide computer literacy in English to rural children in India. Sadhguru is the driving force behind several environmental projects, including Green Hands, which have planted thousands of trees in India, and Rally for the Rivers, a campaign to rejuvenate the country's depleted rivers. He is the author of a New York Times bestseller (the book "Inner Engineering"), has won numerous awards from the President of India for outstanding service and dedication for his environmental initiatives, and is recognized as one of the 50 most influential people in his country. The temple for meditation "Dhyanalinga," built on his initiative, is not devoted to a specific religion or doctrine, and on a stone column in front of the entrance are depicted symbols from different religions - a sign of striving for universal brotherhood. All of this makes us ask ourselves: what is Sadhguru preaching?
Being touched by the power of his words is an experience that is one of a kind, either when you watch him through the screen on his Youtube channel Sadhguru (or "Садгуру" - the official channel in Bulgarian for his followers in our country) or when you attend one of the events of the Isha Foundation. This is evident from the tears of joy that flow from the eyes of seminar participants. Sadhguru spreads his wisdom non-verbally, as well, by being present himself the people around him can become more aware, but to meet the expectations of the audience, he always speaks in front of it. The questions and problems he touches upon are from all areas of life, and he speaks like an ordinary person. Perhaps because his talks are not limited to religious affiliations, complex terms, and incomprehensible metaphors, he reaches the hearts of so many people. Sadhguru reveals to the audience the distorted patterns from which all torment, suffering, and emptiness come from. Through brilliant humor and wisdom, he makes one long to rise and transcend the barriers, but without feeling insignificant and foolish, as it happens in contact with many of the spiritual teachers.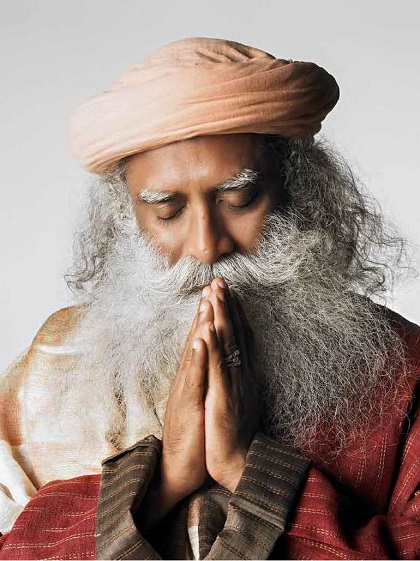 Don't squeeze 'till bitter
Although the discussions start from a specific problem, Sadhguru encourages his followers to strive for one solution - full awareness at all levels and a constant state of inner bliss. Hundreds of pages will not be enough to share all his recipes for well-being. But here's what he says about an enduring problem, for example - why can't we keep our relationship pure when love is gone? The reason is rooted in our profoundly wrong approach to relationships, according to Sadhguru. It's the same when we taste sweet fruit: we become insatiable and do not stop squeezing it until it becomes bitter and unpleasant in taste. We do the same with the people in our lives. We operate from the presence of a specific need - financial, emotional, sexual, psychological. When this is the driving force behind every relationship, sooner or later, the taste becomes bitter, and the balance vanishes. Instead, we should be whole and aware and not suffocate the other with expectations, but go to them with the pure intention of sharing the sweetness of our abundance. Sadhguru presents this attitude as the key to a lasting relationship.
We forge our destiny
How to lay the foundations of a blissful life to achieve beautiful experiences in all areas? We would have to go back to where we started: "As there is a science and technology for our external wellbeing, there is a whole science and technology for inner wellbeing." This quote from Sadhguru opens the door to his largest project - the Inner Engineering program. It provides wellbeing techniques. The program aims to make its participants explore their highest potential through powerful inner transformation techniques derived from classical yoga; meditations to master key areas of life, and access to the secrets of ancient wisdom. "Inner Engineering" is available in a variety of formats: retreats, a book, an online course, live lectures. (see options at https://www.innerengineering.com/). The foundation of the course is a purifying 21-minute yoga practice - Shambhavi Mahamudra Kriya, systematized by Sadhguru. It serves to level the whole human system and makes the body, mind, emotions, and energies work in harmony and creates a chemistry of bliss - a prerequisite for everyone to create a dream life. And change is happening.
Conscious life
"The fundamental question is, in a day, how much of your thought, emotion, physical activity, breath, heartbeat, and everything else is conscious." Sadhguru repeatedly points out that if we strive to be aware of the processes in our body, mind, and soul for only 5 minutes every day, we will reach the peaks of our existence, and the people around us will begin to worship us. What Sadhguru shares come from personal experience, the focus of his work has always been on personal responsibility: both to ourselves (to live consciously and with joy) and to other living beings and nature in general.
To immerse yourself in the wisdom of the spiritual master, you can go to
https://isha.sadhguru.org/global/en
, where you will learn all about his activities, the dates of his visits to different parts of the world, read and listen to the words with which he leads millions of people around the world to a full and meaningful life.
Christina: financier, from Sofia: Sadguru showed me who I am
Exactly three years ago, a seemingly simple interview I stumbled upon on television turned my life upside down. The interview was with one of the most influential people in India. But it was not this fact that grabbed me, but the tremendous wisdom, warmth, intelligence, and humor that flowed from this man. It was Sadguru.
Today 3 years later, I can say that my life has been divided into two parts - before and after Sadhguru and Isha. And I like the second part much more! Especially after running the Inner Engineering program, I noticed so many positive changes in my life - big and small, obvious, and less so. My immune system works even better - I have a lot more energy. I'm much calmer, and even things that used to annoy me now amuse me. And I feel much more connected to nature, to the people around me, to life in general. These are just a few of the changes that have taken place in my life since I began to practice Isha's practices. Today they are an integral part of me, and I do not want to miss them for a day. Because now I know from my own experience that being cheerful, balanced, healthy, reasonable and responsible is not just a coincidence, but depends entirely on me. And that gives me tremendous inner strength and freedom. I wish everyone to experience the sweet feeling of getting in touch with your inner strength and freedom.
Adriana, financier, from Sofia: Inner Engineering turned my life upside-down
As a child, I had asthma-like symptoms. To a large extent, these problems disappeared thanks to my daily practices. I underwent several surgeries, after which I felt pain in this area and my back. When I practice, I feel relieved. In this fast-paced life, Inner Engineering practices help me be more energetic - I need less sleep; more focused - the prioritization of my tasks has improved, and I find joy in the smallest things.