Alex Orbito has been born in 1940 in the Philippines – a poor country, where locals struggle to afford the services of medicine, and possibly it is the reason to never sever ties with their ancient spiritual and healer traditions. Alex grows up in a family of healers, where "miracles" are more like common everyday occurrences. Ever since he was a small child, he has been attending the séances of his mother and other healers. He learned the main spiritual principles from his brother Ruperto, who frequently meditates standing up and motionless on top of a tree. His brother Eustacio can make "energy injections", by pointing his index finger to a tired or a sickly person to grant them strength. Alex is the youngest of 12 children. Initially he did not want to do engage with healing. However, his mother – Lina – was adamant that one day Alex will be the strongest healer in the family.
When he was 9 years old, Alex has his first "paranormal" event. While helping his sister Olin in the rice fields, a very strong earthquake started. It was so strong that Alex could not stand upright. Very frightened, he started shouting "God, help us!" In this very moment, a ball of light erupted from the clouds, zaps toward him, hits him on the head, and he falls flat on his back. His sister cries in panic when he saw his hair standing straight up and his eyes, which "all of a sudden turned into the eyes of an old man".

After this event, Alex starts having the same dreams all over again. In some of them he heals queues of people, but one of the dreams is stranger, and it repeats itself the most often. In it, he walks among a beautiful country with lush meadows, white beaches, variety of colors and harmony. Among this land there is a high mountain, where a wise man lives, all dressed in white, his hair and beard smooth as white as silk.

For a long time, Alex stood in his feet and listened to his deep voice. The boy did not think much of those dreams, until one night, when he was 14 years old, he dreamed that people passed next to their home, and they were carrying a paralyzed man. He approaches the stretcher and asked the woman lying in it to pray with him. Then he touched her feet, tells her to stand up and she starts walking. Several days later, as she is having breakfast, a boy from a distant neighborhood arrives and tells him: 'My mother has been paralyzed for 10 years. Last night she had a dream you will cure her. Please, come'.

Without any delay, Alex and his mother go to the house of that woman. The woman started crying when she sees him, and whispers "Yes, it was you I dreamed of". Alex felt strong compassion to the woman.
In this very moment, a ball of light erupted from the clouds, zaps toward him, hits him on the head, and he falls flat on his back
He takes a bottle of cocoa oil and massages her feet for several minutes, while his tears quietly drop down his face.

Then he takes her hands and helps her up. The woman is able to walk again, observed incredulously by her son and Alex's mother.


This episode marked the start of Alex's life as a healer. 3 difficult years followed. People never stop asking for his services, but in return he only gets gratitude and … eggs. People humiliate and mock him. One day he is taken with a jeep and driven 8 km. away from home, to treat an old woman. When he completes his treatment, they thank him and leave him to walk home in the torrential rain.
At this time, Alex is a young man full of desire for adventure and fun. The life of a healer definitely does not appeal to him, and he runs off to the north without informing anyone. In the next 3 years, he goes around the whole country. He works as a bus driver, newspaper seller, photographer.

He has fun with friends, music, and dance. He feels free and even happy, until one day the photographer's studio in the town of Kaiagan, where Alex is employed, was robbed. He is arrested in the disco club and sent directly to prison without an explanation. He spends long days in a cell. In his despair, he started praying. Then he hears a very clear voice, telling him he will be free soon, but he has to go back home and heal people. The next day the real robber confessed to his crime
My mother has been paralyzed for 10 years. Last night she had a dream, in which Alex Orbito healed her...
and Alex is free again. But he quickly forgets his promise and decides to go to the town of Roksas. There, however, he falls ill to an unknown type of fever and loses all of his strength. He could not even move. The voice appeared again and told him he will not be cured, unless he returns to his home city. Albeit very weak, Alex starts walking home. Even on the way there he starts feeling better. When he crossed the threshold of his old home, he has fully recovered.

The news of his return spreads like a forest fire, and he is once again piled up with work. People's attitude did not change much, but this time he can take it.

One day he is summoned in a distant neighborhood to treat a woman who had problems in her abdomen area. As usual, he immediately goes into a deep trance and lets his fingers move along the patient body on their own. At this time, however, he feels a warm liquid… He looks at his hands and sees that they are halfway into the woman's body?! Alex begins to panic. He looks at her face – she is laying motionless and has no expression of pain. "She must have died", he thought, and cried "God, help me!". He starts praying ardently and promises he will be much more careful from now on. To his surprise, when he looks again at the abdomen of the woman, there is no trace of a wound there. He shares what happened with his mother and she assured him some healers could penetrate the body in this manner.

Alex is very scared, however. In the next 3 years, he strives hard to not allow any such accident happen again. But the seed of understanding has been sown in his mind, and he never stops questioning what happened and how is this possible.

One day he decided to experiment on himself. Sitting at the porch of his house, he started massaging his abdomen. His fingers penetrate his own body in what feels like the most natural thing, and he observes the feeling. Everything is well, until he remembers that he has no idea how to resolve this situation. Again he
One day he decided to experiment on himself. His fingers penetrate his own body in what feels like the most natural thing
cries in panic, and his mother comes to his aid. She dresses the wound with a herb poultice and assures him everything will be alright. In a few days the wound closes, leaving a scar, which is still visible on his abdomen.

Despite not entirely successful, the experiment gives Alex the answers he seeks. From this moment on, he completely trusts the force that guides him. He leaves his hands free and starts doing what scientists will later name "psychic surgery"...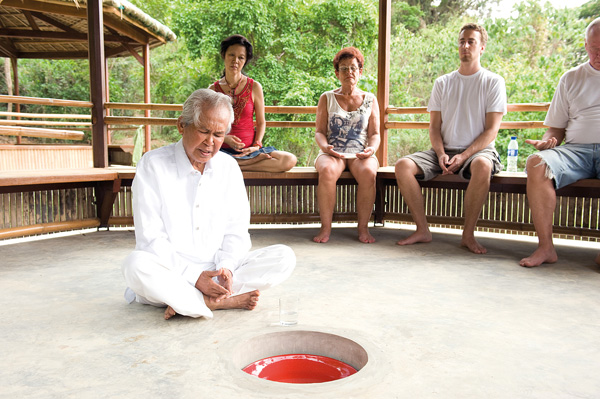 Except healing, Alex Orbito is actively doing humanitarian work. He is the founder of the "Spiritual Aid Foundation", which finances the development of public buildings, provides funds for scholarships of school and university students, and dispenses food and clothes to several people of great need in the area of Kuyapo and Pangasinan. After Alex Orbito's initiative, the Dutch foundation "Fred" starts granting loans to impoverished people in the remote and poor area Nagcularan, where the healer has been born…

Thanks to Alex Orbito, two unique facilities have been built in the Philippines – the Pyramid of Asia and the Pyramid of light. Those are powerful energy centers, the purpose of which is to harmonize the energies of people and Earth itself. (Editor's note: They deserve a separate article, dedicated entirely to them).

For his humanitarian activity in 1985, Alex Orbito has been awarded with the degree Doctor Honoris Causa by a global congress of the UN, and in 2000 – with the prestigious Filipino award "Jose Rizal".


In the next video you can watch an interview with the healer which was made last year for the international magazine Nexus:




The crowdfunding campaign of the documentary film about Alex Orbito starts on August 28 in Cinecrowd.com! Share with your friends and with the people you know the official website of the film "Man of Faith"! Each person who supports the creation of this film, regardless of the sum contributed, shall become a member of the team, and shall receive select and not included in the production scenes, posters, CDs, and many other prizes!

To learn news about the campaign first:

Provide us with a contact e-mail and your name in the registration form!
Like the film's Facebook page